BIOGRAPHY
---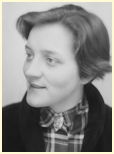 The name
Anne-Marie Beckensteiner
can be associated with both the revival of interest in Baroque music and the
Golden Age
of the LP in France during the 1950s.
She was born on 4 February 1925 in Lyon, where she began her musical studies. Dissatisfied with her progress at the piano and uninspired by her teachers, she moved to Paris in 1947. The following year she met Jean-François Paillard while attending the music history class of Norbert Dufourcq at the Paris Conservatoire – her thesis L'Ouverture à la Française des origines à la mort de Rameau was awarded the Prix d'excellence by Dufourcq in 1956. Paillard and Beckensteiner married in 1952 and three sons followed: Jérôme (1956), Benoît (1961), and Stéphane (1963).
The Bach Year in 1950, celebrated in Paris with concerts and lectures, was decisive in directing Beckensteiner's interest toward early music. In 1953, upon the advice of Jacqueline Masson, leader of the harpsichord class at the Paris Conservatoire, she and fellow classmate Huguette Dreyfus attended Ruggero Gerlin's summer course at the Accademia Musicale Chigiana in Siena. Gerlin's teaching proved inspirational and Beckensteiner returned to his class in 1954 and 1955. While she was in Sienna, Paillard studied Baroque manuscripts at the Cathedral of San Petronio in Bologna, one of many such archives he visited throughout Europe.
1953 saw the attendant formation of the Jean-Marie Leclair Instrumental Ensemble by Paillard and the founding of the Erato label by Philippe Loury. The initial goal of the ensemble, comprised of twelve strings players with Beckensteiner as harpsichordist, was the performance of 18th century French instrumental music. This would be the title of their first recording for Erato and the beginning of a remarkably successful collaboration. Paillard signed a contract in 1954 to record a minimum of five discs each year and more than 200 records followed, many featuring premieres of rediscovered Baroque repertoire and performances by the leading French soloists of the day, including Jean-Pierre Rampal, Maurice André, Marie-Claire Alain, Lily Laskine, and Robert Veyron-Lacroix. As their fame and repertoire increased, the ensemble was renamed the Jean-François Paillard Chamber Orchestra in 1959. The orchestra's first concert abroad was in Fribourg, Switzerland in 1956, and three years later their first European tour took them to Spain and Portugal. Extensive tours of North America and Asia followed in 1967 and 1968. Beckensteiner remained with the orchestra until 1974.
She was also a member of the Maxence Larrieu Instrumental Quartet, an ensemble comprised of soloists from Paillard's orchestra that included flutist Maxence Larrieu, oboist Jacques Chambon, and cellist Bernard Fonteny. Their Paris debut on 1 February 1963 was followed by several successful recordings for Erato and Critère.
From 1967 she served as teaching assistant to Robert Veyron-Lacroix at the Paris Conservatoire, often replacing him while he was on extended tours with Rampal. Outstanding students at this time included Scott Ross and Yannick Le Gaillard. In 1974 she continued her own studies with Edith Picht-Axenfeld in Ulm, Germany. Seduced by the sound and touch of Picht-Axenfeld's Dulcken-style harpsichord, she ordered an identical instrument from the workshop of Eckehart Merzdorf to replace her revival-style Neupert. In 1975 she organized a harpsichord class at the Saint-Cloud Conservatoire, where her students included Pascal Baylac, Iakovos Pappas, Claire Corneloup, and Martine Chappuis. In 1978, following her divorce from Paillard, she established the harpsichord class at the Grenoble Conservatoire, which she led until 1990. At the same time she gave summer masterclasses in Autun. Her students during this period included Denis Radou, Martine Guers, Rachel Saury, and Agnès Fontaine.
She began a new chapter in her life when she relocated to India at the age of 70. In 1997 she unexpectedly found herself teaching recorder at the Volontariat in Pondicherry, where her young students later formed a successful recorder quartet. She taught at the Volontariat for fourteen years, returning to France during the summers. The film Souffles croisés documents the legacy of her work in India.
Anne-Marie retired to Saint-Malo, where she studied guitar and practiced the art of porcelain painting. From 2019 she resided near her son Stéphane in Boisgervilly. She died on 9 October 2021 in Rennes following a brief illness. Her curiosity, passion for music, and love for family and friends remained undiminished to her last day.